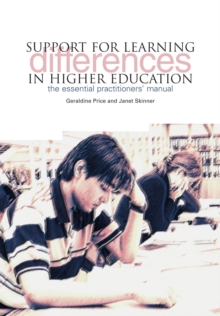 Support for learning differences in higher education : the essential practitioners' manual
1858564115 / 9781858564111
25 cm viii, 256 p. : ill.
Specialist teacher assessors work in all sectors of education.
As key personnel in higher education institutions, they are responsible for conducting essential diagnostic psychometric assessments for students.
The government has identified procedures for assessing and identifying students in higher education with specific learning difficulties and this book shows how to implement them.The book is a practitioners' guide for specialist teachers working with SpLD students in higher education institutions and is the key text for the practitioners' certificate introduced in 2006.
It provides practical guidance to aid specialist tutors who are assessing and supporting students in all academic fields; formats for assessments to help tutors comply with the new regulations; and, guidance on reasonable adjustments for students which do not compromise academic standards.This manual is essential for SpLD managers, for professionals who wish to update their skills so they can support HE students, and for all teachers involved in advanced training.
BIC:
JNM Higher & further education, tertiary education, JNS Teaching of specific groups & persons with special educational needs