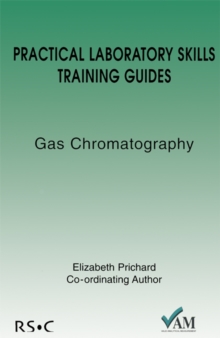 Practical Laboratory Skills Training Guides : Gas Chromatography
0854044787 / 9780854044788
Stock expected by 18/12/2019
156 x 234 mm, 240 grams 42 pages, No
Professional & Vocational Learn More
Postgraduate, Research & Scholarly
Undergraduate
Gas chromatography has been the most widely used technique in analytical chemistry for over three decades.
It offers unchallenged resolving power for closely related volatile compounds and high sensitivity and selectivity with many of the detector systems.
This technique is very accurate and precise when used in the laboratory.
This guide begins by looking at the basic theory behind gas chromatography, then goes on to examine injection and sampling methods and the chromatographic column.
Sections on detection, data handling, calibration and standards are followed by problem-solving and practical exercises.
Gas Chromatography is one of the Practical Laboratory Skills Training Guides, a series that aims to make achieving best practice easy.
These invaluable manuals will enable both experienced and inexperienced staff to get the essential basics of any experiment right simply by following the clear and easy to use instructions provided.
The guides are written by experienced scientists and include minimal theory, plenty of practical exercises in order to assess competence, and trouble shooting information.
Other titles are: Measurement of Mass; Measurement of Volume; Measurement of pH; and High Performance Liquid Chromatography.
BIC:
PDN Scientific equipment, experiments & techniques, PNFC Chromatography