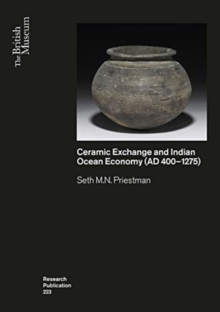 Ceramic exchange and Indian Ocean economy (AD 400-1275)
0861592239 / 9780861592234
30 cm 200 pages : illustrations
From AD 500-1000, the Indian Ocean emerged as a global commercial centre, and by around 750-800 a sophisticated trade network had been established involving the movement of goods from Japan and China in the east, to southern Africa and Spain in the west.
However, the Indian Ocean's commercial system has been relatively understudied, with many of the key assumptions regarding its development based on narrative textual sources and selective archaeological evidence.
This study sets out the case for the unique significance of quantified ceramic finds as an indicator of long-term changes in the scale and volume of maritime exchange in a period for which few other sources of systematic economic history survive.
The publication presents archaeological data from thirteen sites distributed across the western Indian Ocean, including Siraf (Iran), Anuradhapura (Sri Lanka) and Manda (Kenya).
The ceramic assemblages are considered in terms of their general compositional characteristics and the distinctions between local, regional and long-distance exchange.
The volume concludes with a discussion of how this data can be used to address the broader issues of long-term economic change and the relationship between state power in the Middle East and the commercial networks of the Indian Ocean operating via the Persian Gulf.
BIC:
1FB Middle East, 1QSN Indian Ocean, 3F c 500 CE to c 1000 CE, HBTM Maritime history, HDD Archaeology by period / region, KCZ Economic history, WCN Antiques & collectables: ceramics & glass