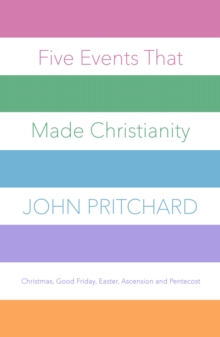 Five events that made Christianity : Christmas, Good Friday, Easter, Ascension and Pentecost
0281078068 / 9780281078066
'Jesus was a pest to the Romans and a threat to the religious leadership, so they threw him on to the rubbish dump.
Little did they realize that it was like trying to put out a fire with petrol.
The whole world exploded.'With characteristic style, John Pritchard takes us on pilgrimage to the Holy Land, as he unpacks the five great events that made Christianity - Christmas, Good Friday, Easter, Ascension and Pentecost.
We explore:What happened?What did it mean?What does it mean for us?Absorbing, immediate and full of stories, this volume offers deeply considered theology, brilliantly communicated to connect with life as we actually experience it. 'Vividly elucidates the familiar but often not-quite-understood beliefs at the centre of the Christian faith.'Dominic Barrington, Dean of ChicagoPraise for John Pritchard:Rowan Williams on God Lost and Found: 'Unusually honest . . . superbly well focused.'Justin Welby on Living Faithfully: 'A very good book by an exceptional leader . . . takes one back to the face of Christ and the realities of Christian discipleship.'
BIC:
HRCR Christian worship, rites & ceremonies, HRCV Christian life & practice