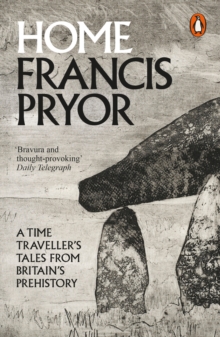 Home : a time traveller's tales from British prehistory
0241955882 / 9780241955888
20 cm xxxii, 319 pages, 16 unnumbered pages of plates : illustrations (black and white, and colour), maps
Reprint. Originally published: London: Allen Lane, 2014.
In Home Francis Pryor, author of The Making of the British Landscape, archaeologist and broadcaster, takes us on his lifetime's quest: to discover the origins of family life in prehistoric BritainFrancis Pryor's search for the origins of our island story has been the quest of a lifetime.
In Home, the Time Team expert explores the first nine thousand years of life in Britain, from the retreat of the glaciers to the Romans' departure.
Tracing the settlement of domestic communities, he shows how archaeology enables us to reconstruct the evolution of habits, traditions and customs.
But this, too, is Francis Pryor's own story: of his passion for unearthing our past, from Yorkshire to the west country, Lincolnshire to Wales, digging in freezing winters, arid summers, mud and hurricanes, through frustrated journeys and euphoric discoveries.
Evocative and intimate, Home shows how, in going about their daily existence, our prehistoric ancestors created the institution that remains at the heart of the way we live now: the family. 'Under his gaze, the land starts to fill with tribes and clans wandering this way and that, leaving traces that can still be seen today . . . Pryor feels the land rather than simply knowing it' - Guardian
BIC:
1DBK United Kingdom, Great Britain, 3B Prehistory, HBJD1 British & Irish history, HBLA Ancient history: to c 500 CE, HDDA Prehistoric archaeology