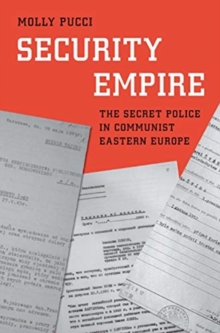 Security Empire : The Secret Police in Communist Eastern Europe
0300242573 / 9780300242577
156 x 235 mm 392 pages, 16 b-w illus.
A compelling examination of the establishment of the secret police in Communist Poland, Czechoslovakia, and Eastern Germany This book examines the history of early secret police forces in Poland, Czechoslovakia, and East Germany in the aftermath of the Second World War.
Molly Pucci delves into the ways their origins diverged from the original Soviet model based on differing interpretations of communism and local histories.
She also illuminates the difference between veteran agents who fought in foreign wars and younger, more radical agents who combatted "enemies of communism" in the Stalinist terror in Eastern Europe.
BIC:
1DV Eastern Europe, 3JJ 20th century, HBJD European history, HBLW 20th century history: c 1900 to c 2000, JPSH Espionage & secret services