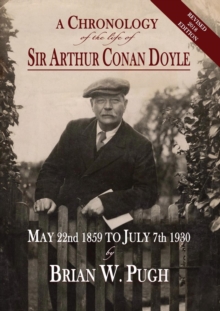 A Chronology of the Life of Sir Arthur Conan Doyle - Revised 2018 Edition (2018 ed.)
1787053466 / 9781787053465
210 x 297 mm, 1084 grams 456 pages, 20 Illustrations; Illustrations, color
A Chronology of the Life of Sir Arthur Conan Doyle was first published in 2009 this was fully revised, expanded in 2012 and 2014, an Addenda Corrigenda was published in 2016.
This 2018 edition has been completely updated and revised and supersedes all previous editions, it includes all of the revisions and corrections that were made previously plus the information and maps included in the Addenda Corrigenda.
Also included is information located during research since 2016.
New photographs have been added to those already published and The Times is now listed in the sources with the date of publication.
The index has been compiled
BIC:
APB Individual actors & performers, BGF Biography: arts & entertainment, BGH Biography: historical, political & military