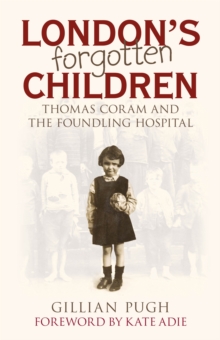 London's forgotten children : Thomas Coram and the Foundling Hospital
0752442449 / 9780752442440
Stock expected by 22/04/2021
21 cm 192 p., [24] p. of plates : ill. (some col.)
In 1739, Captain Thomas Coram was dismayed at the sight of children dying on the dung heaps of London.
These children, mostly foundlings and orphans, were products of a poverty-stricken society where the attitude towards babies born outside of wedlock meant a life of rejection and inferiority.
After 17 years of campaigning, Coram managed to persuade sufficient 'persons of quality and distinction' to support his petition to the King to grant a Royal Charter for the building of the Foundling Hospital in Bloomsbury.
Over the next few years, children were brought to the Foundling Hospital for shelter.
There they were provided with excellent health care and education fit for their station in life before apprenticing the boys to learn a trade and the girls to domestic service.
This fascinating history of the first children's charity charts the rise of this incredible institution, and examines the attitude towards foundlings as illegitimate children over the years.
Reliving the experience through the voices of past members of the hospital, this book is a fascinating social history of one of London's worst cases of poverty.
BIC:
1DBKESL London, Greater London, 3JF c 1700 to c 1800, HBTB Social & cultural history, JKSB1 Child welfare, JKSN1 Charities, voluntary services & philanthropy