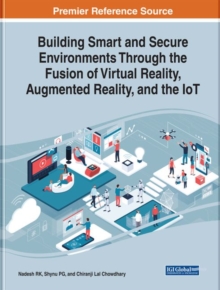 Building smart and secure environments through the fusion of virtual reality, augmented reality, and the IoT
1799831833 / 9781799831839
As technology continues to advance in today's market, the unification between a physical and digital environment is imminent. Organizations are looking towards technologies such as virtual reality, cloud computing, and the internet of things (IoT) to assist them in building a more intelligent environment.
Building Smart and Secure Environments Through the Fusion of Virtual Reality, Augmented Reality, and the IoT is a pivotal reference source that provides vital research on integrating a digital environment in professional settings through IoT design and virtual reality.
While highlighting topics such as sensor networks, deep learning techniques, and knowledge management, this publication explores developing methods of smart security as well as protocol support in IoT devices.
This book is ideally designed for developers, researchers, IT practitioners, network professionals, educators, and students seeking current research on modern applications of virtual and augmented reality in professional environments.
BIC: