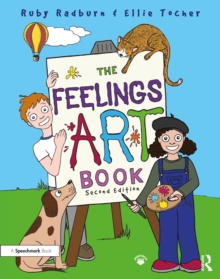 The Feelings Artbook : Promoting Emotional Literacy Through Drawing (2 New edition)
0367173115 / 9780367173111
78 pages, 63 Line drawings, black and white
This fun, imaginative book offers children a way to develop their emotional literacy skills through creativity and drawing.
The new edition has been reimagined as a child-friendly activity book that can be completed independently, with beautiful new illustrations and more than ten extra activities. For professionals, the book is designed to be flexible and photocopiable, so that it can be used in a range of educational and therapeutic settings.
The accompanying instructions and guidance are now available online, with a clearly stated aim for each activity, a suggested outline of how to facilitate, and three optional follow-on ideas.
There are now also two Evaluation & Monitoring templates included in the online booklet, one for individual work and one for group work. The resource is divided into three themed sections:Self Esteem: Activities exploring identity, personal empowerment, aspirations and values, and important relationships in a child's lifeEmotions: In this section, children are invited to consider a range of complex feelings such as excitement, jealousy and disappointmentEmpathy and Imagination: These activities guide children towards an awareness of other people's experiences, emotions and feelingsSuitable for both parents and professionals, this book is an invaluable resource for anybody looking to improve the emotional awareness and wellbeing of young people.
BIC:
JNS Teaching of specific groups & persons with special educational needs