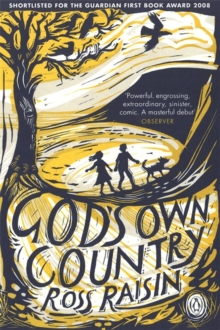 God's own country
0141033525 / 9780141033525
Reprint. Originally published: London: Viking, 2008.
Granta Best Young British Novelist and Sunday Times Young Writer of the Year, Shortlisted for NINE literary awards'Ross Raisin's story of how a disturbed but basically well-intentioned rural youngster turns into a malevolent sociopath is both chilling in its effect and convincing in its execution' J.
M. Coetzee 'Utterly frightening and electrifying' Joshua Ferris 'Astonishing, funny, unsettling ...
An unforgettable creation [whose] literary forebears include Huckleberry Finn, Holden Caulfield and Alex from A Clockwork Orange' The Times'Remarkable, compelling, very funny and very disturbing . . . like no other character in contemporary fiction' Sunday TimesIn God's Own Country, one of the most celebrated debut novels of recent years, Ross Raisin tells the story of solitary young farmer, Sam Marsdyke, and his extraordinary battle with the world. Expelled from school and cut off from the town, mistrusted by his parents and avoided by city incomers, Marsdyke is a loner until he meets rebellious new neighbour Josephine.
But what begins as a friendship and leads to thoughts of escape across the moors turns to something much, much darker with every step. 'Powerful, engrossing, extraordinary, sinister, comic.
A masterful debut' Observer
BIC: