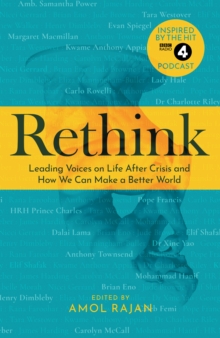 Rethink : how we can make a better world
1785947176 / 9781785947179
General (US: Trade) Learn More
Professional & Vocational
Tertiary Education (US: College)
Based on the hit BBC podcast, a guide to our global 'reset moment', examining life after the pandemic, with contributions by Pope Francis, HRH Prince Charles, The Dalai Lama, Lady Hale, Tara Westover, Steven Pinker, Caleb Femi, Carlo Rovelli, and many more. After darkness, there is always light In a time of increasing uncertainty, Rethink offers a guide to a much-needed global 'reset moment', with leading international figures giving us glimpses of a better future after the pandemic.
Each contribution explores a different aspect of public and private life that can be re-examined - from Pope Francis on poverty and Dalai Lama on the role of ancient wisdom to Lady Hale on the courts and Tara Westover on the education divide; from Elif Sharak on uncertainty and Steven Pinker on Human Nature to Xine Yao on masks and Jarvis Cocker on environmental revolution.
Collectively, they offer a roadmap for positive change after a year of unprecedented hardship. Based on the hit BBC podcast, and with introductions by presenter and journalist Amol Rajan, Rethink gives us the opportunity to consider what a better world might look like and reaffirms that after darkness there is always light. RETHINK List of contributorsWHO WE ARECarlo Rovelli - Rethinking HumanityPope Francis - Rethinking PovertyLord Peter Hennessy - Rethinking DemocracyAnand Giridharadas - Rethinking CapitalismJared Diamond - Rethinking a Global ResponseZiauddin Sardar - Rethinking NormalityDalai Lama - Rethinking Ancient WisdomCK Lal - Rethinking InstitutionsJarvis Cocker - Rethinking an Environmental RevolutionClare Chambers - Rethinking the BodySteven Pinker - Rethinking Human NatureTom Rivett-Carnac - Rethinking HistoryJonathan Sumption - Rethinking the StateWHAT WE DODavid Skelton - Rethinking IndustryEmma Griffin - Rethinking WorkCaleb Femi - Rethinking EducationGina McCarthy - Rethinking ActivismTara Westover - Rethinking the Education DivideKwame Anthony Appiah - Rethinking the Power of Small ActionsDr Charlotte Riley - Rethinking UniversitiesKK Shailaja - Rethinking DevelopmentAmb.
Samantha Power - Rethinking Global GovernanceKT Tunstall - Rethinking the Music IndustryRebecca Adlington - Rethinking the Athlete's LifeLady Hale - Rethinking the CourtsNisha Katona - Rethinking HospitalityKatherine Granger - Rethinking the OlympicsDavid Graeber - Rethinking JobsJames Harding - Rethinking NewsCarolyn McCall Rethinking TelevisionHOW WE FEELMohammad Hanif - Rethinking IntimacyHR McMaster - Rethinking EmpathyCarol Cooper - Rethinking Racial EqualityPaul Krugman - Rethinking SolidarityAmonge Sinxoto - Rethinking SafetyReed Hastings - Rethinking TogethernessKang Kyung-wa - Rethinking AccountabilityLucy Jones - Rethinking BiophiliaColin Jackson - Rethinking Our Responsibility for Our HealthMirabelle Morah - Rethinking OurselvesNicci Gerrard - Rethinking Old AgeBrian Eno - Rethinking the WinnersJude Browne - Rethinking ResponsibilityElif Shafak Rethinking UncertaintyHOW WE LIVEAmanda Levete - Rethinking How We LiveNiall Ferguson - Rethinking ProgressDavid Wallace-Wells - Rethinking ConsensusMargaret Macmillan - Rethinking International CooperationHRH Price Charles - Rethinking NatureOnora O'Neill - Rethinking Digital PowerMatthew Walker - Rethinking SleepHenry Dimbleby - Rethinking How We EatEliza Manningham-Buller - Rethinking Health InequalityPascal Soriot - Rethinking Medical Co-operationDr Xine Yao - Rethinking MasksGeorge Soros - Rethinking DebtMariana Mazzucato - Rethinking ValueRt Hon Douglas Alexander - Rethinking Economic DignityWHERE WE GOPeter Frankopan - Rethinking AsiaStuart Russell - Rethinking AIDeRay McKesson - Rethinking the ImpossibleVS Ramachandran - Rethinking BrainsSeb Emina - Rethinking TravelAaron Bastani - Rethinking an Aging PopulationRana Faroohar - Rethinking DataAnthony Townsend - Rethinking Robots
BIC:
HP Philosophy, HPQ Ethics & moral philosophy, JP Politics & government