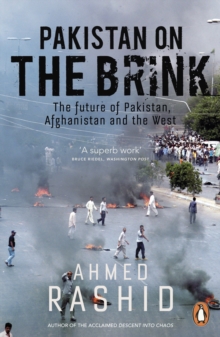 Pakistan on the brink : the future of Pakistan, Afghanistan and the West
024196007X / 9780241960073
20 cm xix, 234 pages : maps (black and white)
Professional & Vocational Learn More
Tertiary Education (US: College)
Reprint. Originally published: New York: Viking, 2012.
Ahmed Rashid, author of Descent Into Chaos and Taliban, charts the latest developments in the dangerous trajectory of one of the world's most strategically important, and volatile, countries - and the effects on its neighbours and us all'An expert's examination of the volatile region that gives the world's policy-makers their biggest nightmare' Christina Lamb, Sunday Times What does the future hold for the world's most unstable region?
With Bin Laden dead, Pakistan threatened by internal power struggles and the US and Britain beginning withdrawal from Afghanistan, there is no better guide the possibilities - and dangers -than Ahmed Rashid.
In his follow-up to Descent into Chaos, he examines the changing casts of characters in this story, the future of the Taliban and international terrorism, and the political manoeuvring both within Pakistan and Afghanistan and among Western allies, offering a way forward for all countries involved. Ahmed Rashid is a Pakistani journalist based in Lahore, who has covered Afghanistan, Pakistan and Central Asia for a variety of publications since 1979.
He is the author of five books - the best selling Taliban, Descent into Chaos: The US and the Disaster in Afghanistan, Pakistan and Central Asia, Jihad and The Resurgence of Central Asia.
He writes for the Financial Times, the New York Times, the New York Review of Books, , BBC Online and Pakistani publications.
Foreign Policy magazine chose him as one of the world's most important 100 Global Thinkers in 2009 and 2010.
In 2008 he won Spain's prestigious Casa Asia prize for contributing most about Asia to the Spanish people.The following year he was presented with the prize for best columnist in the Spanish press by King Juan Carlos at a dinner honoring him.
In December 2009 he was appointed a member of the board of New York's Committee to Protect Journalists.
He has also served on the Board of Advisers for the International Committee of the Red Cross for five years.
His books have won numerous prizes. His website is: www.ahmedrashid.com'This excellent book provides a much-needed update on what has happened in Afghanistan and Pakistan ...
Rashid has an eye for the big picture as well as a journalist's nose for detail' Daily Telegraph'A powerful and pacey primer' Spectator'A meticulous, reliable and authoritative chronicler ...
Unlike many journalists Rashid has the courage to outline how he believes the catastrophic situation in his homeland (Pakistan) and its neighbour, Afghanistan, can be improved' Jason Burke, Observer
BIC: