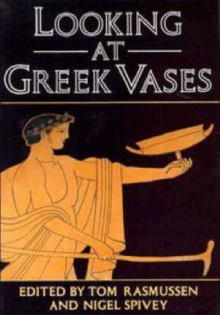 Looking at Greek Vases
0521376793 / 9780521376792
Usually dispatched within 4 weeks
137 x 213 mm, 360 grams 302 pages, 1 Maps; 105 Halftones, unspecified
General (US: Trade) Learn More
Professional & Vocational
Tertiary Education (US: College)
An ancient Greek vase is a difficult object for the non-expert to come to terms with.
Faced with rows of apparently undifferentiated black, red and buff pots, he or she is at a loss as to where to begin.
Greek vases are treated as objets d'art in the modern world, but how much were they worth in the ancient?
They are often used to demonstrate 'the Greek genius' and aspects of ancient Greek society, but why do many of them carry Eastern motifs, and why do so many turn up in Italy?
Why were the Greeks not content with simple patterns on their pottery?
What did the pictures on the pots mean to them? Why should a vase depict a scene from a play? These are the sorts of questions that this book, first published in 1991, attempts to answer.
As the title implies, it is a series of 'looks' at Greek vases, offering suggestions on how to read the often complex images they present.
BIC: