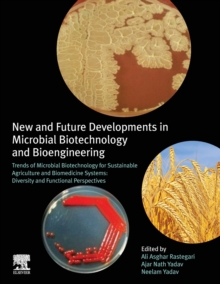 New and Future Developments in Microbial Biotechnology and Bioengineering : Trends of Microbial Biotechnology for Sustainable Agriculture and Biomedicine Systems: Diversity and Functional Perspectives
0128205261 / 9780128205266
Usually dispatched within 4 weeks
216 x 276 mm, 1120 grams 366 pages
New and Future Developments in Microbial Biotechnology and Bioengineering: Trends of Microbial Biotechnology for Sustainable Agriculture and Biomedicine Systems: Diversity and Functional Perspectives describes how specific techniques can be used to generalize the metabolism of bacteria that optimize biologic improvement strategies and bio-transport processes.
Microbial biotechnology focuses on microbes of agricultural, environmental, industrial, and clinical significance.
This volume discusses several methods based on molecular genetics, systems, and biology of synthetic, genomic, proteomic, and metagenomics.
Recent developments in our understanding of the role of microbes in sustainable agriculture and biotechnology have created a highly potential research area.
The soil and plant microbiomes have a significant role in plant growth promotion, crop yield, soil health and fertility for sustainable developments.
The microbes provide nutrients and stimulate plant growth through different mechanisms, including solubilization of phosphorus, potassium, and zinc; biological nitrogen fixation; production of siderophore, ammonia, HCN and other secondary metabolites which are antagonistic against pathogenic microbes.
This new book provides an indispensable reference source for engineers/bioengineers, biochemists, biotechnologists, microbiologists, agrochemists, and researchers who want to know about the unique properties of this microbe and explore its sustainable agriculture future applications.
BIC: