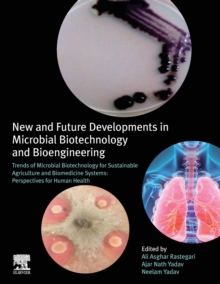 New and Future Developments in Microbial Biotechnology and Bioengineering : Trends of Microbial Biotechnology for Sustainable Agriculture and Biomedicine Systems: Perspectives for Human Health
0128205288 / 9780128205280
New and Future Developments in Microbial Biotechnology and Bioengineering: Trends of Microbial Biotechnology for Sustainable Agriculture and Biomedicine Systems: Perspectives for Human Health discusses how microbial biotechnology helps us understand new strategies to reduce pathogens and drug resistance through microbial biotechnology.
The most commonly used probiotic bacteria are Lactobacillus and Bifidobacterium.
Therefore, the probiotic strains exhibit powerful anti-inflammatory, antiallergic and other important properties.
This new book provides an indispensable reference source for engineers/bioengineers, biochemists, biotechnologists, microbiologists, pharmacologists, and researchers who want to know about the unique properties of this microbe and explore its sustainable biomedicine future applications.
BIC: