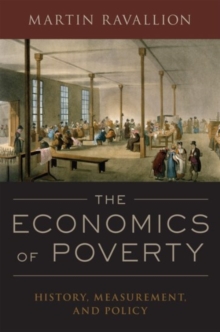 The economics of poverty : history, measurement, and policy
0190212772 / 9780190212773
Professional & Vocational Learn More
Postgraduate, Research & Scholarly
While there is no denying that the world has made huge progress against absolute poverty over the last 200 years, until recent times the bulk of that progress had been made in wealthy countries only.
The good news is that we have seen greater progress against poverty in the developing world in recent times-indeed, a faster pace of progress against extreme poverty than the rich world saw over a period of 100 years or more of economic development.
However, continuingprogress is far from assured. High and rising inequality has stalled progress against poverty in many countries.
We are seeing generally rising relative poverty in the rich world as a whole over recent decades. And even in the developing world, there has been less progress in reaching the poorest, whorisk being left behind, and a great many people in the emerging middle class remain highly vulnerable to falling back into poverty. The Economics of Poverty strives to support well-informed efforts to put in place effective policies to assure continuing success in reducing poverty in all its dimensions.
The book reviews critically the past and present debates on the central policy issues of economic development everywhere.
How much poverty is there? Why does poverty exist? What can be done to eliminate poverty? Martin Ravallion provides an accessible new synthesis of current knowledge on these issues.
It does not assume that readers know economics already.
Those new to economics get a lot of help along the way in understanding its concepts and methods.
Economics lives though its relevance to real world problems, and here the problem of global poverty is both the central focus and a vehicle for learning.
BIC:
1KBB USA, JFFA Poverty & unemployment, KCR Welfare economics