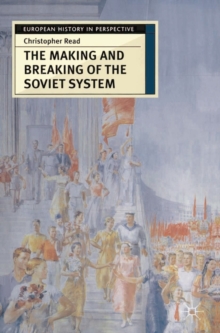 The making and breaking of the Soviet system : an interpretation
0333731530 / 9780333731536
postgraduate Learn More
research & professional
undergraduate
Using post-Soviet materials and perspectives, this study examines the reasons for the successes and failures of the Soviet system.
In particular, it argues that the underlying reasons for the system's collapse can be found in the contradictions of the revolution which gave birth to it.
The consequences are traced through the Stalin revolution, the Great Terror, World War II, the Cold War, the Khrushchev and Brezhnev years down to Gorbachev's doomed attempt to transform the Soviet system.
Particular attention is given to the divergence between the aspirations of the leadership and the social evolution of ordinary Russian people.
BIC:
1DVUA Russia, HBJD European history, HBLW 20th century history: c 1900 to c 2000, JPFC Marxism & Communism