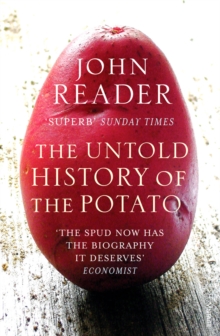 The untold history of the potato
0099474794 / 9780099474791
Originally published: as Propitious esculent. London: William Heinemann, 2008.
Where does our food come from? The story of one of the world's most important crops From the gold potatoes at the Sun Temple in Cuzco, Peru, the muddy ones in Ireland and those grown in China for McDonald's chips, the story of the spud is both satisfying and fascinating.
John Reader follows the thread of the potato's story through the tapestry of human history, from its origins and evolution to its mysterious arrival in Europe, where it became a crucial part of gastronomic and social fabric.
As global population swells and environmental sustainability becomes ever more crucial, Reader asks what role the potato still has to play - in this lively, readable study of our most humble foodstuff. 'Each chapter is discrete in content and manner, yet densely connected to the rest.
Wonderful: to understand the whole world through a single crisp' Guardian
BIC:
HBTB Social & cultural history, WB Cookery / food & drink etc