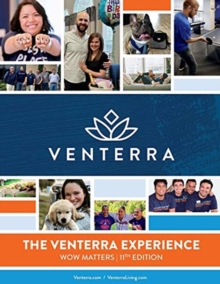 The Venterra Experience- WOW Matters 11th Edition
1098304039 / 9781098304034
4 x 279 mm, 0 grams 164 pages
The Venterra Experience book offers a look inside the daily life and culture of Venterra Realty's residents and employees, highlighting the memorable experiences that the company delivers to their residents.
Most people have lived in an apartment at one point or another, but never before has a company worked with the residents in their communities to share stories and asked their staff to pull back the curtain and share moments that will make you laugh, cry, and feel.
All the stories and testimonials within Venterra's Experience Book are taken directly from resident and employee experiences.
It's through these stories that the book illustrates Venterra's never-ending pursuit of excellence and commitment to delivering world-class customer experience by championing the company's Core Values, which lead their residents to Live it.
Love it. As John Foresi, the CEO, says, "We are not in the apartment business.
We are in the people business and happen to work with apartments."
BIC: