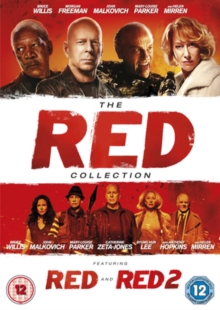 (12) Suitable for 12 years and over.
Both instalments of the star-studded action comedy starring Bruce Willis and based on D.C.
Comics' cult graphic novel. In 'Red' (2010) former CIA top agent Frank Moses (Willis) is now enjoying an idyllic, if rather dull, retirement.
But life gets a whole lot more interesting when he narrowly escapes death at the hands of a high-tech assassin.
In his subsequent investigations, he discovers that - along with his former Agency colleagues Marvin (John Malkovich), Joe (Morgan Freeman) and Victoria (Helen Mirren) - he appears to have become a prime target of one of the deadliest government conspiracies in history.
Mary-Louise Parker, Brian Cox, Ernest Borgnine and Richard Dreyfuss appear in supporting roles.
In 'Red 2' (2013), Frank is brought out of retirement once again when he is asked to track down a nuclear device which has fallen into the wrong hands.
In order to find out the device's location he must first speak to Edward Bailey (Anthony Hopkins), the scientist responsible for its creation, but to make matters worse his old partner Victoria has been contracted to kill him with the help of a much-renowned deadly assassin (Byung-hun Lee).