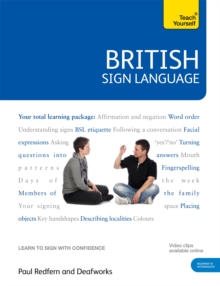 British sign language
0340991321 / 9780340991329
Stock expected by 11/08/2021
in box 24 x 17 cm 1 v., 1 videodisc
Title from box DVD From beginner to Level TY Level 4 (CACDP Level 1).
This product contains a book and DVD. Do you want to be able to understand and use British Sign Language confidently?
All you need is this best-selling course. Learn everyday, useful BSL through real-life situations that make the grammar and vocabulary easy and memorable.
Hundreds of line illustrations throughout the book and constant references to video clips on the DVD make learning fast and fun. British Sign Language (BSL) is used in the United Kingdom.
The number of Deaf people in the UK using BSL has been put at about 50,000; there are in addition many more hearing people who use BSL to communicate with Deaf users.
Sign languages are not related to spoken languages and BSL is completely different, for example, from American Sign Language.
Sign language conveys meaning through the use of space and movement of the hands, body, face and head. We know that many hearing people are keen to learn BSL (it is a very popular evening class course, for example).
But there is a lack of good teaching materials written in English for hearing learners of BSL, which this course fills.
Get Started in British Sign Language follows the BSL curricula taught currently in colleges (Council for the Advancement of Communication with Deaf People CACDP and Institute of BSL) and therefore will be able to be used as support material by learners, as well as providing a complete grounding in the structure and grammar of BSL.
FlexibleLearn in your own time and at your own paceTime savingLearn quickly with one- and five-minute essentialsExpertWritten by Deaf authorsInformativeSections of Deaf cultureJargon-freeLearn the grammatical features of BSL with easePracticalReinforce your learning with examples and exercisesAuthenticLearn everyday BSL through real-life situationsDVD (MP4 compatible)Video clips provided on a 60-minute DVD Teach Yourself British Sign Language includes:Chapter 1: Starting out with BSL structureChapter 2: More about Deaf peopleChapter 3: BSL StructuresChapter 4: Deaf culture and BSL etiquetteChapter 5: Introduction to facial expressionsChapter 6: Asking 'wh-' questionsChapter 7: Asking 'yes'/'no' questionsChapter 8: More about questionsChapter 9: How to use facial expressionsChapter 10: BSL mouth patternsChapter 11: Starting out with fingerspellingChapter 12: Learning to fingerspellChapter 13: Reading fingerspellingChapter 14: Fingerspelling signsChapter 15: Using fingerspelling in conversationChapter 16: Other fingerspelt words: monthsChapter 17: Starting out with placementChapter 18: Describing a roomChapter 19: Introduction to referent handshapesChapter 20: Understanding switchingChapter 21: Describing a room from memoryChapter 22: Understanding someone describing a scene from memoryChapter 23: Starting out with directionsChapter 24: Directions - describing localitiesChapter 25: Complex directions: adding more informationChapter 26: Using directions with landmarksChapter 27: ColoursChapter 28: What next?Rely on Teach Yourself, trusted by language learners for over 75 years.
BIC:
CFZ Sign languages, Braille & other linguistic communication