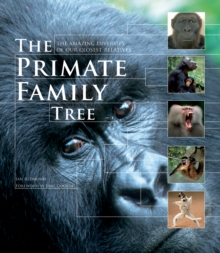 The primate family tree : the amazing diversity of our closest relatives
1554079640 / 9781554079643
26 cm 176 pages : illustrations (colour), maps (colour)
"The book is beautifully designed, and the contents are well organized and will be interesting to all....
An excellent text for a relevant course or a welcome addition to any home library.
I recommend it very highly." - Science Books and Films.
The Primate Family Tree is a beautiful and comprehensive resource on the subject of our animal relatives: apes, monkeys and lemurs.
Readers will learn an abundance of facts, review recent research and conservation efforts and discover the remarkable characteristics shared by all primates, including humans.
The book is structured according to the four main branches of the primate family tree and contains expert information on the natural history, characteristics and behaviour of over 250 species, along with maps showing the ranges of each species.
Some of the topics covered are: The definition of a primate; Darwin's big idea, anthropological theories, DNA; The structure of the primate family tree; Distribution of species, including lorises and lemurs; Diet, habitat, life cycles, social structure, communication; Primate emotions; Primates as 'gardeners of the forest'; Issues involving conservation, bush meat, civil war, habitat loss; Primate tourism: does it help or hurt?With its authoritative text, colour photographs taken in the field, range maps and classification diagrams, The Primate Family Tree is an outstanding reference on a subject of vital importance to all humans.
BIC: