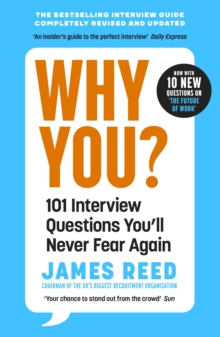 Why you? : 101 interview questions you'll never fear again ([Revised] edition)
0241297133 / 9780241297131
NOW WITH 10 NEW QUESTIONS ON THE FUTURE OF WORKWhen did you last have a life-changing conversation?
The chances are, if you're applying for jobs and being invited to interview, that you're about to have one.
There won't be any dry runs or dress rehearsals. You'll have one go and you'll need to give it your best shot.
Why You? 101 Interview Questions You'll Never Fear Again offers you everything you need to make sure you're ready; with powerful preparation techniques, the lowdown on how to answer the most common questions and - above all - how to adopt a winning mindset at interview that will help you succeed on the day. Now completely revised and updated with 10 new bonus questions on the 'The Future of Work' that have been chosen to help you understand the changing needs of the employer since this classic bestseller was first published.
This book has helped many thousands of readers move on in their lives and careers and will help you do the same.
BIC: