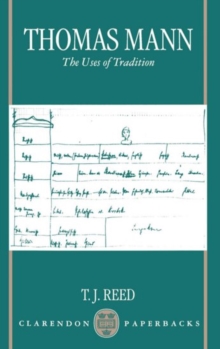 Thomas Mann : the uses of tradition (2nd ed)
0198159153 / 9780198159155
Stock expected by 13/12/2019
T.J. Reed's study has long established itself as the standard work in English on Thomas mann, and offers as comprehensive a view of Mann's fiction and thought as is available in any language.
It is based on a coherent close reading of Mann's oeuvre, literary and political, and also on manuscripts and sources, and was part of the first phase of literary scholarship that opened up the resources of the Zurich Thomas Mann Archive.
Further documents that have appeared since then - Mann's diaries, notebooks, and other correspondences - have not fundamentally altered the individual interpretations or the overall picture the study offers, and in some respects have emphatically confirmed them.
A further chapter added to this edition covers the new documentation, gives a vigorous account of the main curents in Mann scholarship and criticism over the last two decades suggesting how we should now see the writer, the man, and the political figure, and above all the complex relationship between the three.
BIC:
2ACG German, DSBH Literary studies: from c 1900 -, DSK Literary studies: fiction, novelists & prose writers