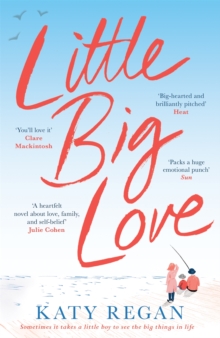 Little big love
1509898328 / 9781509898329
Reprint. Originally published: as Little big man. 2018.
**Previously published in hardback as Little Big Man**`Katy Regan broke my heart and put it back together again with Little Big Love' - Lucy DiamondLiam Jones is the love of Juliet's life.
He was her brother's best friend first, then hers, then the father of her son.
In those shining weeks after Zac was born, she'd never been happier, and neither had Liam. Until the night he disappeared without a trace. Zac is now ten, and collects facts: octopuses have three hearts; the world's heaviest man weighed over 100 stone; only three species of animal have a blue tongue.
The one piece of information he really wants, though, is the truth about why his father left. His family refuse to talk about that night but when Juliet inadvertently admits to him Liam is the only man she's ever loved, Zac decides to find him and give his mum a second chance at happy ever after. After all, nothing can stand in the way of true love . . . Or can it?`A big-hearted, brilliantly pitched tale about family, love and finding your place in the world' - Heat`Poignant, funny and heartbreaking with a story that stays with you long after you have put it down'- Psychologies`Beautifully written and brimming with people to love and root for . . . Had me from the first page' - Lisa Jewell
BIC: