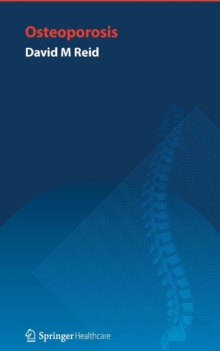 1907673075 / 9781907673078
Usually dispatched within 2 weeks
21 cm 131 pages : illustrations (black and white, and colour)
Written by a world-recognised expert in the field of osteoporosis, who has published extensively, and is recognized as a key opinion leader. Aimed at primary care physicians, rheumatologists, orthopaedic surgeons, geriatricians, endocrinologists, and nurse specialists who wish to keep up to date in the prevention and management of osteoporosisHigh quality clinical photos and figures to enhance descriptions and aid diagnosisWritten by a well-known author During the menopause, both the quantity and quality of bone decline rapidly, leading to a dramatic increase in the risk of fracture in postmenopausal women.
Although many factors are known to be associated with osteoporotic fractures, measures to identify and treat women at risk are underused in clinical practice.
Consequently, osteoporosis is frequently not detected until a fracture occurs.
Identification of postmenopausal women at high risk of fracture therefore is a priority. The Handbook of Osteoporosis reviews the risk factors, and lifestyle changes that can help prevent osteoporosis and evaluates the pharmacological treatments currently available.
BIC: