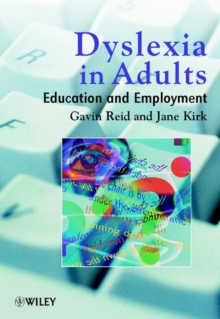 Dyslexia in adults : education and employment
0471852058 / 9780471852056
Stock expected by 12/04/2020
postgraduate Learn More
research & professional
undergraduate
Offering a comprehensive guide for professionals working with adults with dyslexia in the learning and working environment, this book discusses key aspects of student learning such as strengths and difficulties, individual profiles, role of tutor, course design, assessment and method of teaching, as well as providing a number of support strategies.
The authors clarify the concept of dyslexia through expanded and practical definitions that can be understood by professionals and employers with little or no previous understanding of dyslexia.
Case studies highlight the needs of both employers and dyslexic adults in the workplace, and give examples of good practice.
A section discusses statutory rights, and the final chapter lists sources and resources covering agencies, books and articles, and IT support.
BIC:
JNP Adult education, continuous learning, JNRV Industrial or vocational training, JNSG1 Teaching of dyslexic students