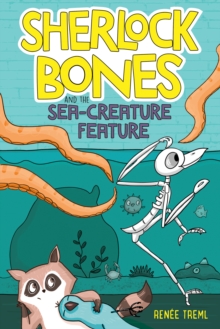 Sherlock Bones and the Sea-Creature Feature
0358309395 / 9780358309390
135 x 203 mm, 308 grams 288 pages
In this second book in thehumorous, mystery-solving graphic novel series that's perfect for fans of Bad Guys,Sherlock Bones and his ragtag team hunt down a swamp monster!

Sherlock Bones's home, the Natural History Museum, has added an exciting new exhibit,Reef to Shore, that includes amangrove forest and shallow coral reef habitat, with touch tanks in between. When Sherlock overhears a that a swamp monster has been sighted,he gathers his team to investigate. At first Sherlock Bones suspects Nivlac,a quirky octopus with a talent for camouflageand tank pranks.

But then, loudbellowing leads Bones and team to the mangroves, where they find a horrifying long-haired green beast! Can they escape the creatureor is it too late for our beloved frogmouth bird skeleton and his ragtag mystery-solving team?
BIC: