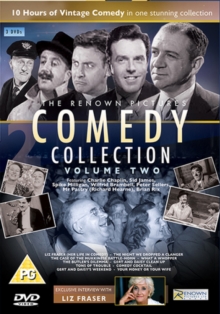 The Renown Pictures Comedy Collection: Volume 2
David Henley
,
John T. Chapman
,
Edwin Braden
,
Ernest Steward
,
Jon Penington
,
Harry Booth
,
Michael Deeley
,
Larry Stephens
,
Harry Booth
,
Jon Penington
,
Edwin Astley
,
Gerald Gibbs
,
Edward Joseph
,
Terry Nation
,
Laurie Johnson
,
Reginald H. Wyer
,
Michael Barringer
,
Elizabeth Hiscott
,
John Blore Borelli
,
James Wilson
,
Kathleen Butler
,
H.F. Maltby
,
F. W. Baker
,
Percival Mackey
,
Stephen Dade
,
John Barrow
,
Richard Hearne
,
Leslie Hiscott
,
Richard Hearne
,
Elizabeth Hiscott
,
Norman Warwick
,
Maclean Rogers
,
Norman Williams
,
Ronald Jeans
,
Philip Green
,
Brendan J. Stafford
,
Liz Fraser
,
Edwin J. Fancey
Collection of British comedy films. In the Second World War feature 'The Night We Dropped a Clanger' (1959) British Wing Commander Blenkinsop (Brian Rix) is due to carry out a top-secret operation in occupied France in order to uncover information about the flying bomb.
To outwit the Nazis, the RAF employs Aircraftsman Arthur Atwood (also Rix) as Blenkinsop's double but the two get mixed up and it is left to the decoy to complete the mission.
In 'The Case of the Mukkinese Battle-Horn' (1956) a Mukkinese battle-horn is stolen from the Metropolitan Museum.
Superintendent Quilt (Peter Sellers) and Sergeant Brown (Spike Milligan) investigate the robbery, meeting a number of eccentric characters along the way.
In 'What a Whopper' (1961) struggling writer Tony Blake (Adam Faith) and his bohemian artist flatmates are threatened with eviction from their house in Chelsea.
To raise the cash, they devise a hare-brained scheme to travel to Loch Ness, fake an appearance of the famed monster therein, and write a bestselling book about it.
What could possibly go wrong? In 'The Butler's Dilemma' (1943) Rodney Playfair (Richard Hearne) is made to impersonate a butler in exchange for having his gambling debts written off.
However, he is really providing an alibi for a thief...
In 'Gert and Daisy Clean Up' (1942) the title characters (Elsie and Doris Waters) do their best to help the war effort by rounding up salvage metal and foiling a racketeering plot. 'Tons of Trouble' (1956) follows caretaker Mr. Pastry (Hearne) as he gets himself into all sorts of calamities looking after his beloved boilers Mavis and Ethel.
In 'Gert and Daisy's Weekend' (1942) the two East End sisters volunteer to escort a group of evacuee children out of Blitz-torn London into the safety of the countryside.
All kinds of mayhem, mischief and misunderstandings ensue as the motley troupe arrives at the grand Little Pipham Hall, presided over by the imposing Lady Plumtree (Annie Esmond). 'Your Money Or Your Wife' (1960) follows married couple Pelham (Donald Sinden) and Gay Butterworth (Peggy Cummins) as they unexpectedly run into money troubles.
In advance of Gay receiving an inheritance, the newly-weds decide to splash out to celebrate.
It is only after this that they discover they will be given the money in weekly instalments unless the couple divorce or Pelham dies.
They plan to divorce and remarry but will their scheme pay off?
The collection also includes a documentary on English actress Liz Fraser entitled 'Liz Fraser - Her Life in Comedy' and the short 'Comedy Cocktail' (1951) in which Edwin J.
Fancey presents clips from some of Charlie Chaplin's comedies.