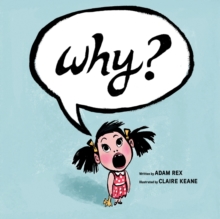 Why?
1452168636 / 9781452168630
This sweet book will appeal to anyone familiar with the universal tendency of young children to always ask WHY?
When supervillain Doctor X-Ray swoops in threatening to vanquish an innocent crowd, the only one brave enough not to run away is a little girl, who asks him simply, "Why?" He is taken aback-but he answers.
She keeps asking. And he keeps answering-until a surprising truth is uncovered, and the villain is thwarted.
In this laugh-out-loud take on the small-and-determined-beats-big-loud-bully story, simple questions lead to profound answers in a quest that proves the ultimate power of curiosity.
BIC: