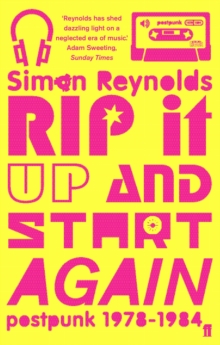 Rip it up and start again : post-punk 1978-84
057121570X / 9780571215706
Stock expected by 05/06/2020
Reprint. Originally published: 2005.
This is the essential book on post-punk music, and a must for any serious pop music fan.
In this, the first book to take a big-picture view of the entire post-punk period, acclaimed author and music journalist Simon Reynolds recreates a time of tremendous urgency and idealism in pop music.
Full of anecdote and insight, and featuring the likes of Joy Division, The Fall, Pere Ubu, PiL and Talking Heads, "Rip It Up and Start Again" stands as one of the most inspired and inspiring books on popular music ever written.
This is a fascinating book to delight all the many fans of post-punk music, from New Wave to Ska and the New Romantics.
With masses of glowing media attention for the original edition, "Rip It Up" has been universally hailed as the seminal text on this extraordinary period of music.
It is an incredibly popular genre of music at the moment, following the success of bands such as Franz Ferdinand and Bloc Party.
The CD compilation was released in February to coincide with the publication of the paperback, using the same cover artwork and featuring many of the tracks mentioned in the book.
BIC:
3JJPL c 1970 to c 1980, 3JJPN c 1980 to c 1990, AVGC6 20th century & contemporary classical music, AVGP Rock & Pop music