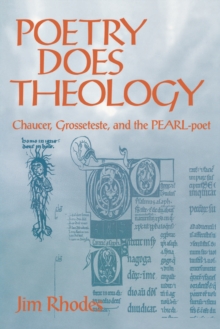 Poetry Does Theology : Chaucer, Grosseteste, and the Pearl-poet
0268038708 / 9780268038700
Professional & Vocational Learn More
Postgraduate, Research & Scholarly
Undergraduate
What happens when poetry deals explicitly with a serious theological issue?
In Poetry Does Theology, Jim Rhodes seeks one answer to that question by analyzing the symbiotic relationship that existed between theology and poetry in fourteenth-century England.
He pays special attention to the narrative poems of Chaucer, Grosseteste, the Pearl-poet, the author of Saint Erkenwald, and Langland. Rhodes shows that Chaucer and his contemporaries wrote at the end of a linguistic and theological revolution-a time when revised perspectives on the creation and incarnation gave rise to a new humanistic spirit that transformed late medieval theological culture and spurred the development of vernacular theology and poetry.
Rhodes' careful analysis describes how the relationship between theology and poetry underwent a radical transformation as the latter half of the fourteenth century progressed.
BIC:
1DBK United Kingdom, Great Britain, 2AB English, 3J Modern period, c 1500 onwards, DSBB Literary studies: classical, early & medieval, DSC Literary studies: poetry & poets, HRCM Christian theology