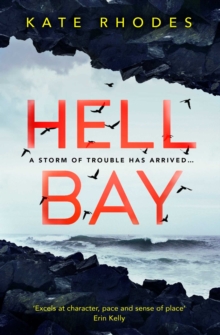 Hell Bay
1471165396 / 9781471165399
24 cm 404 pages : maps (black and white)
'Gripping, clever and impossible to put down. I've been a Kate Rhodes fan for years and in Ben Kitto she has created a detective who is just as complex and compelling as Kate's elegant plotting and stunning prose.
The claustrophobia and paranoia of the island are so brilliant evoked, I could almost feel the tide encroaching as time ran out to find the killer' Erin Kelly,author of He Said, She Said 'Characters come alive on the page, and each scene is as vividly created as the next.
Absorbing and complex, Hell Bay kept me guessing until the final pages' Rachel Abbott, author of The Sixth WindowTrapped in a storm, with no way out ... DI Ben Kitto needs a second chance. After ten years working for the murder squad in London, a traumatic event has left him grief-stricken.
He's tried to resign from his job, but his boss has persuaded him to take three months to reconsider. Ben plans to work in his uncle Ray's boatyard, on the tiny Scilly island of Bryher where he was born, hoping to mend his shattered nerves.
His plans go awry when the body of sixteen year old Laura Trescothick is found on the beach at Hell Bay.
Her attacker must still be on the island because no ferries have sailed during a two-day storm.
Everyone on the island is under suspicion. Dark secrets are about to resurface. And the murderer could strike again at any time. 'I love reading Kate's books in the way I love reading Sophie Hannah - a poet writing crime fiction is a great thing.
Kate really shows us round the community and the landscape so that we feel we know it all.
It is at once a locked-room mystery, a story of the returning hero, and an examination of fear and abuse.
It has the air of a twenty-first century Agatha Christie' Julia CrouchFurther praise for Kate Rhodes: 'A vividly realised protagonist whose complex and harrowing history rivals the central crime storyline' Sophie Hannah, Daily Express 'A pacy psychological thriller' Laura Wilson, Guardian 'Both the plot and the writing keep one thoroughly engaged throughout' Daily Mail 'One of the most absorbing books I've read in a long time - perfectly thrilling' Mel Sherratt 'An enjoyably scary chiller' Sunday Mirror 'The pace never slackens from the first page to the last' Rachel Abbott, author of Only the Innocent 'Fast paced and harrowing, this gripping novel will leave you guessing until the end' Bella 'Great twists, turns and surprises' Sun
BIC: