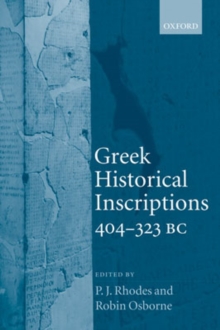 Greek historical inscriptions, 404-323 BC
0199216495 / 9780199216499
Usually dispatched within 4 weeks
postgraduate Learn More
research & professional
undergraduate
Reprint. Originally published: 2003.
This volume is a successor to the second volume of M.
N. Tod's Selection of Greek Historical Inscriptions (OUP, 1948).
It provides an up-to-date selection - with introduction, Greek texts, English translations, and commentaries which cater for the needs of today's students - of inscriptions which are important for the study of Greek history in the fourth century BC.
The texts chosen illuminate not only the mainstream of Greek political and military history, but also institutional, social, economic, and religious life.
To emphasize the importance of inscriptions as physical objects, a number of photographs have been included.
BIC:
1QDAG Ancient Greece, HBJD European history, HBLA Ancient history: to c 500 CE, HDDK Classical Greek & Roman archaeology