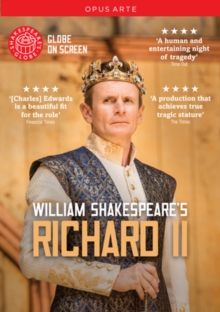 Richard II: Shakespeare's Globe
Live performance of Shakespeare's tragic tale of the corrupting influence of power, recorded at the reconstructed Globe Theatre in London.
Charles Edwards stars as the flawed King Richard II who hands out arbitrary punishments to his citizens, including his cousin Bolingbroke (David Sturzaker), and whose poor decisions lose him the support of the nobility.
The nobles smuggle the exiled Bolingbroke back into the country.
With Richard II distracted by political turmoil in Ireland, Bolingbroke declares himself king and executes the political and psychological demise of his cousin.