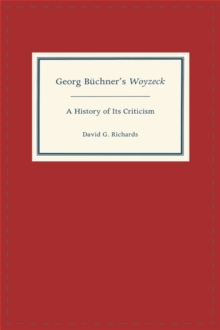 Georg Buchner's Woyzeck : a history of its criticism
1571132201 / 9781571132208
Usually dispatched within 4 weeks
Although it was never completed, Georg Buchner's drama fragment Woyzeck occupies a pivotal place in the development of modern drama: its stature and influence have been recognized by representatives of naturalism, expressionism, epic theater, the theater of the absurd, and the documentary theater.
It provided the libretto for one of the century's greatest operas, Alban Berg's Wozzeck, has been made into a film, and is frequently performed in many countries.
The history of the criticism of Woyzeck is fascinating not only for the diversity of critical approaches but also for the dependence of criticism and interpretation on editors' constructions of a playable text from Buchner's three drafts or complexes of scenes.
The debate about an authoritative text is ongoing, and this contributes greatly to the liveliness of the continuing critical dialogue about Buchner's work.
This is the first extensive survey and analysis of the criticism of Woyzeck from the nineteenth century to the present.David G.
Richards is professor emeritus at SUNY Buffalo and has written extensively about German literature.
BIC:
2ACG German, DSBF Literary studies: c 1800 to c 1900 , DSG Literary studies: plays & playwrights