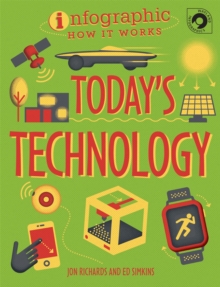 0750299673 / 9780750299671
25 cm 32 pages : illustrations (colour)
Reprint. Originally published: 2016.
There are endless facts to learn about the technology we use every day, but once you've absorbed them, do you really know how your own gadgets work?
They make our lives easier thanks to some incredible processes - and grasping them is the key to understanding technology.
It's time to discover how a house can make its own power, how a touchscreen works and how GPS helps us find our way.
Pore over the step-by-step infographic art and fascinating facts to uncover the dazzling truth behind technology - then try out the mind-bending challenges on each page!TOPICS:How a house can make its own powerHow a light bulb growsHow a microwave cooks foodHow a refrigerator worksHow a robot cleans a roomHow TV is broadcastHow a computer worksHow movies are streamedHow a mobile phone makes a callHow a touchscreen worksHow GPS finds your wayHow a 3D printer worksThe Infographic How It Works series is an exploration of the processes that make the world (and the universe) go round, from the activity in tectonic plates to the enzymes that break down food in our bodies.
Each process is clearly explained using amazing infographics and essential facts - plus an experiment or challenge for readers to try, so they can keep the discovery going. Perfect for readers aged 9 and up. Other titles in the Infographic How It Works series:Life on EarthMachines and MotorsOur PlanetOur UniverseYour Body
BIC:
4KHJ For National Curriculum Key Stage 2, 5AK Interest age: from c 9 years, YNT Science & technology: general interest (Children's / Teenage), YQT Educational: Technology