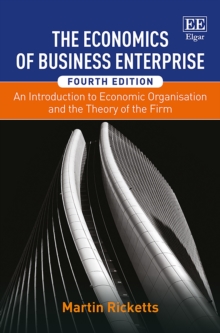 The economics of business enterprise : an introduction to economic organization and the theory of the firm (Fourth edition)
1785360949 / 9781785360947
Usually dispatched within 4 weeks
In its Fourth Edition, this textbook explores how economic activity is organised from a new institutional economics perspective.
Using transactions costs as a continuing theme, the book delivers the necessary skills to understand the evolution of organisational forms and the strengths and weaknesses of different varieties of private and public governance. The importance of entrepreneurship is emphasised throughout.
Public policy concerning competition, regulation and the public utilities is used to illustrate the involvement of subjective judgements about transactions costs in all types of organisational choice. Key features of the Fourth Edition: * Using impartial analysis, Martin Ricketts evaluates business enterprise through Neoclassical, Austrian and Evolutionary economics, allowing students to learn the strengths and weaknesses of each methodological perspective* Using a clear conceptual framework, the author explains principal-agent theory and the transactions costs paradigm in detail* The chapters are designed around a set of classic papers, giving students an understanding of the historical development of the discipline* Updated examples emphasise the applicability to different technological circumstances and the dynamic nature of studying economic organisation* Additional examples are included for teachers to further discussion or create extended seminar work. A key resource for advanced undergraduate courses or an excellent introductory text at graduate level, this Fourth Edition will provide students of economics, business and political economy with a greater awareness of how business enterprises operate and adapt in response to technological change and competition.
BIC:
KJK International business, KJV Ownership & organization of enterprises