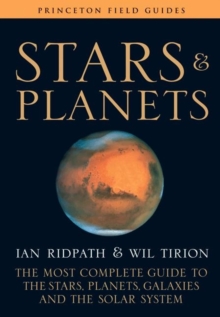 Stars and Planets : The Most Complete Guide to the Stars, Planets, Galaxies, and the Solar System (Fully revised and expanded ed)
0691135568 / 9780691135564
127 x 190 mm, 685 grams 400 pages, 300 color illus.
General (US: Trade) Learn More
Professional & Vocational
Tertiary Education (US: College)
In this new edition of their classic work, Ian Ridpath and Wil Tirion illuminate the night sky as never before, providing novice stargazers and professional astronomers alike with the most comprehensive and authoritative celestial field guide available.
With superb color sky charts, diagrams, or photographs on almost every page, and clear and engaging writing, Stars and Planets is the most user-friendly and informative guide to the night sky.
The product of more than twenty years' collaboration between one of the world's leading astronomy writers and the world's foremost celestial mapmaker, the new Stars and Planets features a slightly larger (but still compact) size, a more spacious and attractive design, and much new material, including more information on galaxies and star types.
Simply put, Stars and Planets is indispensable. Don't leave home--at night--without it. * Detailed charts covering all 88 constellations in the Northern and Southern hemispheres * Data and notes on all bright stars and other objects of interest * Detailed Moon maps and descriptions of the main lunar features * Tips on choosing and using binoculars and telescopes, to suit any budget * The only guide to provide annual planetary data as a downloadable Web resource
BIC: