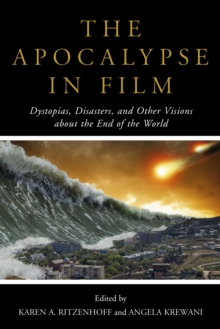 The apocalypse in film : dystopias, disasters, and other visions about the end of the world
1442260270 / 9781442260276
Postgraduate, Research & Scholarly Learn More
Undergraduate
We live in a world at risk. Dire predictions about our future or the demise of planet earth persist.
Even fictional representations depict narratives of decay and the end of a commonly shared social reality.
Along with recurring Hollywood blockbusters that imagine the end of the world, there has been a new wave of zombie features as well as independent films that offer various visions of the future.
The Apocalypse in Film: Dystopias, Disasters, and Other Visions about the End of the World offers an overview of Armageddon in film from the silent era to the present.
This collection of essays discusses how such films reflect social anxieties-ones that are linked to economic, ecological, and cultural factors.
Featuring a broad spectrum of international scholars specializing in different historical genres and methodologies, these essays look at a number of films, including the silent classic The Four Horsemen of the Apocalypse, the black comedy Dr. Strangelove or: How I Learned to Stop Worrying and Love the Bomb, the Mayan calendar disaster epic, 2012, and in particular, Lars Von Trier's Melancholia, the focus of several essays. As some filmmakers translate the anxiety about a changing global climate and geo-political relations into visions of the apocalypse, others articulate worries about the planet's future by depicting chemical warfare, environmental disasters, or human made destruction.
This book analyzes the emergence of apocalyptic and dystopic narratives and explores the political and social situations on which these films are based.
Contributing to the dialogue on dystopic culture in war and peace, The Apocalypse in Film will be of interest to scholars in film and media studies, border studies, gender studies, sociology, and political science.
BIC: