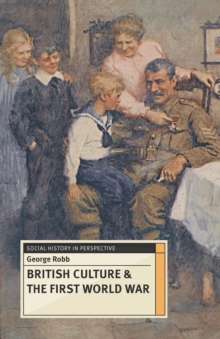 British culture & the First World War (Second edition)
1137307501 / 9781137307507
22 cm ix, 285 pages : illustrations (black and white)
Previous edition: Basingstoke: Palgrave, 2002.
The First World War has left its imprint on British society and the popular imagination to an extent almost unparalleled in modern history.
Its legacy of mass death, mechanized slaughter, propaganda, and disillusionment swept away long-standing romanticized images of warfare, and continues to haunt the modern consciousness. Focusing on the lives of ordinary Britons, George Robb's engaging new study seeks to comprehend what it meant for an entire society to undergo the tremendous shocks and demands of total war; how it attempted to make sense of the conflict, explain it to others, and deal with the war's legacies. British Culture and the First World War- examines the war's impact on ideologies of race, class and gender, the government's efforts to manage news and to promote patriotism, the role of the arts and sciences, and the commemoration of the war in the decades since- synthesizes much of the best and most recent scholarship on the social and cultural history of the war- reclaims a great deal of neglected or forgotten popular cultural sources such as films, cartoons, juvenile literature and pulp fictionCompact but comprehensive, this accessible and refreshing text is essential reading for anyone interested in British society and culture during the turbulent years of the First World War.
BIC:
1DBK United Kingdom, Great Britain, 3JJF c 1914 to c 1918 (including WW1) , HBJD1 British & Irish history, HBLW 20th century history: c 1900 to c 2000, HBTB Social & cultural history