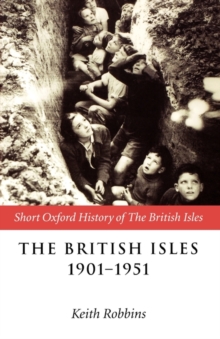 The British Isles, 1901-1951
0198731965 / 9780198731962
Usually dispatched within 4 weeks
The 'British Isles' entered the twentieth century as a single state 'Great Britain and Ireland' with a 'British Empire' greater in extent and larger in population than the world had ever seen.
The first fifty years of the new century saw vast change both at home and abroad, much of it the result of Britain's involvement in the two world wars.
At home, the separate path of Ireland became steadily more clear-cut, whilst abroad, the 'Dominions' increasingly saw themselves and acted as independent entities.
Finally, with the withdrawal from the Indian sub-continent in 1947, the writing was on the wall for the British Empire.
Each chapter in this volume focuses on a specific aspect of the rapidly changing historical landscape of British history in this period: politics, economics, society, culture, the wars, and foreign policy, combining specialist attention to each area with an emphasis on their interconnectedness.
BIC:
1DB British Isles, 3JJ 20th century, HBJD1 British & Irish history, HBLW 20th century history: c 1900 to c 2000, HBWN First World War, HBWQ Second World War