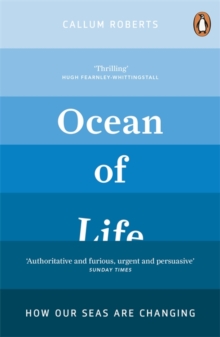 Ocean of life : how our seas are changing
0241950708 / 9780241950708
20 cm ix, 389 pages, 24 unnumbered pages of plates : illustrations (black and white, and colour), map (co
Reprint. Originally published: London: Allen Lane, 2012.
'Thrilling' Hugh Fearnley-Whittingstall'Authoritative and furious, urgent and persuasive' Sunday Times'Compelling ...
Roberts is that precious pearl: a practising scientist who not only knows his field inside out, but also understands how to write' Guardian Oceans are the most mysterious places on earth.
Their depths remain largely unexplored, yet ninety-five percent of the planet's habitable space lies within them. And now the life they support is in the balance. Callum Roberts uses his lifetime's experience working with the oceans to take us on a panoramic tour beneath the seas, exploring the richness of life in the deep and how it has altered over the centuries.
He shows the catastrophic impact of humanity on the oceans, but also how we can restore them to life. 'For anyone who loves the sea, Ocean of Life is a wake-up call, an urgent alert' Daily Mail'At the heart of this book is a deep love of the ocean and a profound concern for its viability as a resource for us all' Nature'An impressive history ... one of this book's strengths is the many solutions Roberts outlines' Financial Times
BIC:
PDZ Popular science, RBKC Oceanography (seas), WNCS1 Sea life & the seashore