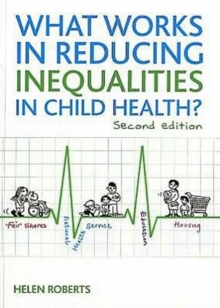 What works in reducing inequalities in child health? (2nd ed)
1847429963 / 9781847429964
Stock expected by 17/04/2020
Previous ed.: Ilford: Barnardo's, 2000.
The UK has a deservedly strong reputation for work on understanding social inequalities in health, but there is some way to go in using research and other types of knowledge to reduce inequalities in child health.
This revised and updated edition of an important report looks at macro public policy interventions, community interventions, and individual level interventions in a variety of settings, including infancy, early years, childhood, adolescence, and particular needs including looked after children.
It considers 'what works' - or might work - in practice.
There are new case studies, updated research references, and new reference to cost effectiveness - all relevant for doing the right thing in a climate of austerity. Drawing on evidence from the UK and beyond, the book presents these in an accessible form, not just for those who make decisions now, but also for the students of today who are the decision makers of tomorrow. The book is supported by a companion website, containing additional materials for both students and lecturers, which is available from the link above.
BIC:
JKSB1 Child welfare, MBNH Personal & public health, MBP Health systems & services