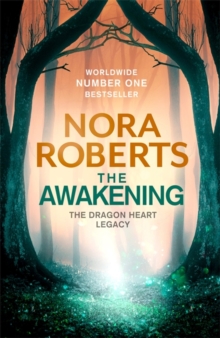 The awakening
0349426376 / 9780349426372
The first in a brand new trilogy from Sunday Times bestseller Nora Roberts, The Awakening is a story of adventure, magic and finding your home Mists, shimmering silver fingers, rose over the pale green water of the lake.
They twined and twisted toward a sky quietly gray, while in the east, over the hills, a pink blush waited, like a held breath, to waken. Breen Kelly had always been a rule follower. So, when her father left when she was twelve years old, promising to return, she waited.
Now, more than a decade later, she's working at a job she hates and is tired of the life that playing by the rules has dealt her.
It's time to make a change. Breen makes a leap into the unknown with a summer trip to Ireland - her father's homeland.
Little does she know how much of a leap until a walk in the woods leads her through a portal into another world - Talamh - where Breen will find magic, family and a destiny she could never have dreamed of'If you're after the perfect pick-me-up, take-me-away-from-the-world read, then she's your woman' The Guardian'Nora Roberts is, quite simply, a one-woman phenomenon'Heat'I love Nora Roberts'Stephen King
BIC:
FH Thriller / suspense, FR Romance, FRD Adult & contemporary romance