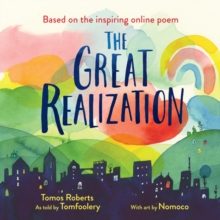 The Great Realization
006306636X / 9780063066366
254 x 254 mm, 369 grams 32 pages
Selected by Today as a book"to ease kids anxiety about coronavirus.
We all need hope. Humans have an extraordinary capacity to battle through adversity, but only if they have something to cling onto: a belief or hope that maybe, one day, things will be better.
This idea sparkedThe Great Realization. Sharing the truths we may find hard to tell but also celebrating the thingsfrom simple acts of kindness and finding joy in everyday activities, to the creativity within us allthat have brought us together during lockdown, it gives us hope in this time of global crisis.
Written for his younger brother and sister in response to the Covid-19 pandemic, Tomos Robertss heartfelt poem is as timely as it is timeless. Its message of hope and resilience, of rebirth and renewal, has captured the hearts of children and adults all over the globeand the glimpse it offers of a fairer, kinder, more sustainable world continues to inspire thousands every day.
With Tomos Robertss heartfelt poem and beautiful illustrations by award-winning artist Nomoco,The Great Realizationis a profound work, at once striking and reassuring, reminding readers young and old that in the face of adversity there are still dreams to be dreamt and kindnesses to be shared and hope. There is still hope.
We now call itThe Great Realization
and, yes, since then there have been many.
But thats the story of how it started . . .
and why hindsights 2020.
BIC: