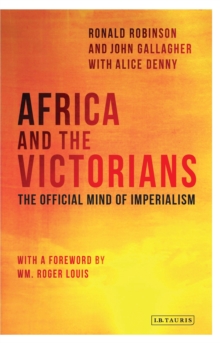 Africa and the Victorians : the official mind of imperialism (New paperback edition)
1780768575 / 9781780768571
Stock expected by 29/10/2021
24 cm xx, 491 pages : maps (black and white)
Previous edition: London: Macmillan, 1961.
Imperialism in the eyes of the world is still Europe's original sin, even though the empires themselves have long since disappeared.
Among the most egregious of imperial acts was Victorian Britain's seemingly random partition of Africa.
In this classic work of history, a standard text for generations of students and historians now again available, the authors provide a unique account of the motives that went into the continent's partition.
Distrusting mechanistic explanations in terms of economic growth or the European balance, the authors consider the intentions in the minds of the partitioners themselves.
Decision by decision, the reasoning of Prime Ministers Gladstone, Salisbury and Rosebery, their advisors and opponents, is carefully analysed.
The result is a history of 'imperialism in the making', not as it appeared to later commentators and historians, but as the empire-makers themselves experienced it from day to day.
Featuring a new Foreword by Wm. Roger Louis, this new edition brings a classic work to a new generation and is essential reading for all students of nineteenth-century history.
BIC:
1H Africa, 3JH c 1800 to c 1900, HBJH African history, HBLL Modern history to 20th century: c 1700 to c 1900, HBTQ Colonialism & imperialism