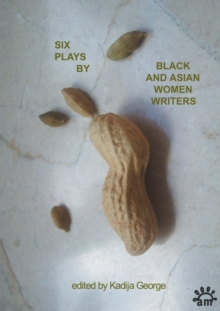 Six plays by black and asian women writers
0951587722 / 9780951587720
Stock expected by 11/04/2020
A landmark collection of plays for stage, screen and radio.
While other anthologies of plays by writers of African descent have been published, Six Plays by Black and Asian Women Writers (1st edition 1993; new revised edition 2005) was the first drama anthology to represent women alone. Comedy, poetry, history and magic combined with themes of a social and spiritual nature are the themes and styles evident in Six Plays by Black and Asian Women Writers, a seminal collection of plays for stage, radio and television by Rukhsana Ahmad, Maya Chowdhry, Trish Cooke, Winsome Pinnock, Meera Syal and Zindika. Edited and introduced by Kadija George, Six Plays by Black and Asian Women Writers includes: Essays on theatre and writing workshop; The Importance of Oral Tradition to Black Theatre by Valerie Small; A survey, A Recent Look at Black Women Playwrights by Deirdre Osborne. This anthology's key characteristics are effortless depictions of characters devoid of stereotypical images and typecast roles and the playwrights' approach to unconventional issues. Six Plays by Black and Asian Women Writers represents just some of the writers who have achieved national recognition with work produced on stage, television and radio by some of the most distinguished actors, directors and producers of African and Asian descent that the arts field in Britain has seen. The anthology heralds the significance that young women of African and Asian descent now have more role models to look towards, reinforced by actors and writers-in-residence going into educational institutions and more diverse organisations and situations, from the BBC-supported writer-in-residence projects, with the likes of performer/artists Rommi Smith and Erika Tan, to performance poet/multi-media artist Dorothea Smartt as the Brixton Market Poet-in-Residence. Since the first publication of Six Plays by Black and Asian Women Writers: Meera Syal has become an international name, with novel, TV and stage credits including the popular musical, Bombay Dreams, debuting in the West End; After receiving a writer-in-residence fellowship at Cambridge University, Winsome Pinnock has gone on to produce further plays staged at much-respected fringe theatres such as the Tricycle Theatre; Maya Chowdhry continues to be experimental with her work in multimedia formats, has co-edited a book with Nina Rapi, Acts of Passion: Sexuality, Gender and Performance and is currently working on a coedited anthology of women's writing in the north of England, `Bitch Lit'; Zindika has written for dance theatre, for Adzido, and co-edited a book, When Will I See You Again with Natalie Smith; Rukshana Ahmad has published a novel, The Hope Chest, and received a Royal Literary Fellowship; Trish Cooke has a successful career writing books for children. Yet moving from the margins and into the mainstream continues to happen too slowly.
More than ten years since the first publication of this anthology, the fight and funding for a `Black'-owned and -managed theatre in Britain is still being argued for, and unfortunately, has barely moved.
BIC:
CFG Semantics, discourse analysis, etc, DD Plays, playscripts