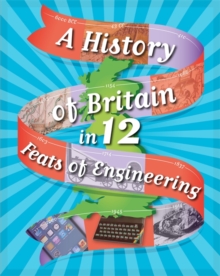 A history of Britain in ... 12 feats of engineering
1445136023 / 9781445136028
27 cm 32 pages : illustrations (black and white, and colour), maps (colour)
Britain has been home to world-leading engineers, inventors, architects and designers who have changed the way Britain and the world works.
In this book discover some key feats of engineering that have taken place in Britain or have been created by British innovators since prehistoric times until today.
Find out have all played a part in shaping the history of Britain, and what they tell us about the different periods of our history. The book is part of 'A history of Britain in 12 ...', a series which examines 12 items that are key to British history from the Stone Age to present day.
The series helps students understand chronology and the idea of continuity and change.
By focusing on different objects, it also encourages the reader to understand how our knowledge of the past is constructed from a range of sources and to gain knowledge of the methods of historical enquiry.
BIC:
1DBK United Kingdom, Great Britain, 4KHJ For National Curriculum Key Stage 2, YQH Educational: History, YQS Educational: Sciences, general science, YQT Educational: Technology
Title Unavailable: Out of Print